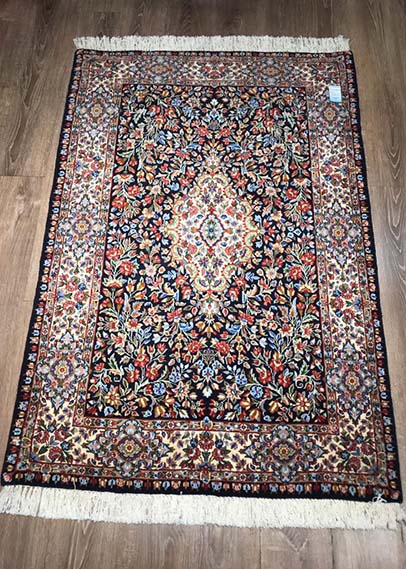 Kerman

Kerman province from north to Khorasan and from east to Baluchistan from Maghreb to Yazd and Yazd Fars and from south to Hormozgan province Carpet weaving in Kerman has an ancient background Kerman was definitely one of the important carpet weaving centers and examples. The beauty of Kerman carpets has since been scattered in museums around the world
Texture areas
All carpets of Kerman province can be divided into two categories of urban texture and nomadic. Urban weaving can be called Kerman, Rafsanjan, Bard Sear, Golbaf, Mahan, Zarand, Joppar of Bard Sirjan.
Technical Information
Designs used in Kerman carpet, carpet designs, frame designs, tree types, pots, flower blends The so-called Berbel designs are one of the most varied and happy Iranian carpets. Lacquer is bright and garish, beige, anai, blue copper, bright, navy, garlic pink and light green and garlic and cream are abundant. Wool is the most important raw material for Kerman carpets.

Tendency to small textures such as crop and half crop is less common but dimensions of 2 * 3 and 5 * 3 and 5 * 2 and 3 * 4 and larger are common Kerman rugs range from 35 to 80 ridge type Persian knot The Kerman thread is always used in the texture. Vertical roller type is used in Kerman.

Weavers and designers

Hassan Khan Shahrokhi, Mohsen Khan Shahrokhi, Mahmoud Arjmand, Ali Arjmand, Mohammad Arjmand, known as Sultan Ghali Kerman Brothers, Rashid Farrokhi and Brothers Dragon, Abul Hadi and Waziri are prominent old and contemporary designers of Kerman province.
Kerman handmade carpet price

Everything you need to know about the features and price of Kerman handmade rugs is brought to you in this article. Stay with us.

What is Kerman handmade carpet?
Wool is the most common material used in Kerman handmade carpets that is readily available and usually made from sheep. The age, breed, climate in which they live and the diet of the sheep all influence the quality of the wool.
Since wool is widely available and a renewable resource (no need to kill sheep to remove their wool and re-grow every year), so wool is one of the cheapest materials for carpet tissue.

Visually, hand-woven carpets have a matte, flat appearance, and look finer and tend to blend in with their surroundings.
Wool carpets are very durable and their candles appear thick and strong. They also show natural resistance to foot traffic and foot traffic. These rugs can last 50 years or more with regular use (and of course maintenance).

Woolen carpets are also fire resistant and more susceptible to dust. Ideally, you should clean the woolen carpet at least once a year. If it is used in an area with high traffic, it is recommended to clean wool rugs every six months.
Due to the materials used, the way the wool carpet is protected against the silk carpet is slightly different. Here's how to keep both types of rugs:


How to Care for Kerman Handmade Wool Carpet?
A wool carpet should be washed at least once a year. Wool carpets contain small, coarse-grained air vents in which the soil can hide. This can not only aggravate the contamination and reduce the beauty of the carpet but it can also hurt people with allergies.

A vacuum cleaner is suitable for removing dust from hand-made carpets.
Just make sure you don't over-clean your carpet. Excessive vacuum can separate wool fibers.

If you stain your wool carpet, you should clean it immediately. If not, turn it into a professional carpet cleaning service.
How to care for Kerman handmade silk carpet

Silk can lose up to 20% of its power when wet, and detergents, hot water, and steam cleaners can damage their fibers. Like wool carpets, you should wash the silk carpets at least once a year, but use soft brushes because they are softer. Other types of brushes can pull the fibers out and damage the carpet.
You can also vacuum the carpet lightly, or shake it off. Silk carpeting is not recommended, treat these carpets as gently as possible.

To eliminate the stains of silk carpets, you should see a professional carpet cleaning service as soon as possible.
To reduce the amount of cleaning, hang your silk carpet on the wall or place it in a low-traffic area.
What is the price of Kerman handmade carpet?
The price difference between the two types of Kerman woolen and silk carpet as a result of the time and materials required to produce them as well as other factors (such as overall style and degree of complexity), the number of knots and colors used, etc. To be.

Although both types of Kerman handmade carpets are beautiful, the price difference between the two reflects their differences in material characteristics and style.